Glam was NOT the goal of her wedding, Kim Kardashian insists. "It was really about our family and each other," the new bride

lies

says in the latest issue of People, which hits newsstands on Friday and has exclusive coverage of the ceremony and reception.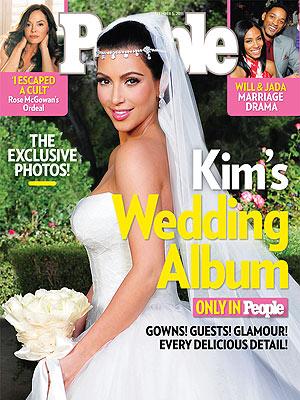 Pick up this issue of People for all the delicious detail!
Donning the $25,000 Vera Wang gown seen above - which she didn't pay for, of course - Kim
tells the publication
she "felt like a princess" during an event described thusly: "It was like we were in heaven."
We? Oh yeah! Kris Humphries was somewhere in the vicinity, too. He must have been in the bathroom when this cover shot was snapped. Study the wedding dress now and respond: What do you think?
View Poll »